The 2019-20 Regular Session committee membership has not been established by the Senate Rules Committee.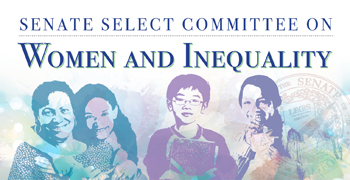 Select Committees offer the unique opportunity to study California policy issues and problems in order to develop longer range solutions. Women have not shared equally in the emerging recovery.  Recent budget actions have targeted programs that low-income women rely on to support their families and gain the education and skills they need to find and retain jobs. Alleviating inequality and creating opportunity for women and families is the best way to help children realize their potential and our society to make opportunity real. The Committee will focus on women and extreme inequality, women in poverty and women's equity as it intersects with race and ethnicity.
The Select Committee held three Hearings and a two-day Convening during its first year in 2014.  Visit the Hearings and Publications tabs for background. In the coming year, we are committed to the development of action plans as well as further consideration of a number of key issues, including the eradication of poverty and inequality; the intersection of race, ethnicity and poverty; child care and child development; the situation of undocumented women; support for the feminization of leadership; the promotion of public-private partnerships and corporate responsibility; and linking state action to federal initiatives.